I am thrilled to share the incredible news of our visit to the NEMA Headquarters this morning, where I had the honour of expressing my deepest appreciation for the prestigious Environment Sustainability Award 2023 bestowed upon NBS TV for the work we do on our 'Taasa Obutonde' campaign and more. This recognition ignites a fire within me, showcasing my untiring commitment and passion for the sustainability of Uganda's environment.
During our visit, I was privileged to meet with the NEMA Managing Director, Dr. Akankwasa Barirega and his team. Their warm welcome and heartfelt gratitude reaffirmed the importance of our partnership in combating the degradation of Uganda's environment. It was an awe-inspiring moment, witnessing the power of collaboration as Next Media and NEMA join forces to make a profound impact.
In my position as Group CEO at Next Media, I firmly believe in the extraordinary influence of media in inspiring change and shaping a sustainable future. Our media platforms, especially NBS TV, have been at the forefront of equipping Ugandans with the knowledge and tools they need to protect our environment. From illuminating the crucial role of individuals in battling plastic pollution to championing sustainable practices, we have ignited a green revolution, empowering every Ugandan to take action.
The Environment Sustainability Award 2023 is a remarkable milestone for us, a testament to our collective efforts and an embodiment of my unyielding dedication. It serves as a powerful motivator, propelling us forward in our mission to raise awareness, educate, engage, and empower the people of Uganda. The responsibility rests upon our shoulders to inspire an entire nation to embrace environmental responsibility.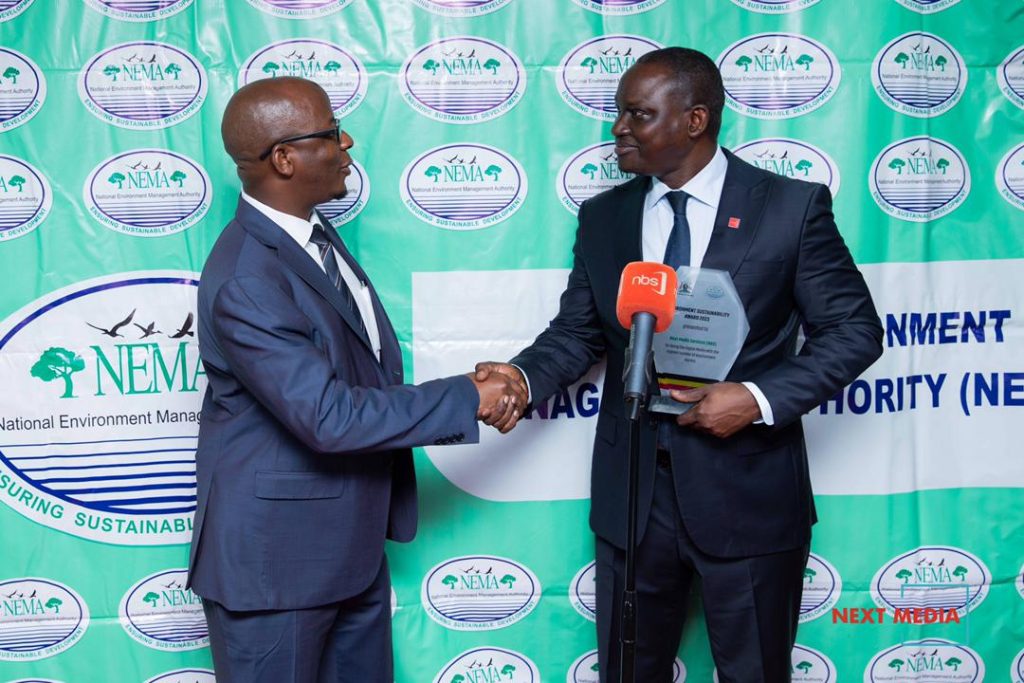 I extend my deepest gratitude to NEMA for their invaluable support and unwavering collaboration. Together, we have embarked on a transformative journey, spearheading change, and amplifying our resounding message of environmental preservation. It is through this steadfast partnership that we can achieve extraordinary results and forge a sustainable legacy for future generations.
Moreover, I had the immense pleasure of meeting my dear friend, Don Wanyama, and his Vision Group team during this momentous occasion.
To my remarkable Next Media team, once again, I offer my heartfelt appreciation for your steadfast dedication, unparalleled hard work, and infectious passion. It is your relentless pursuit of excellence that has propelled us to new heights and made this prestigious recognition possible. I am immensely proud to lead such a talented and devoted team, fuelled by a shared vision for environmental advocacy.
As we stride forward, fuelled by this momentous recognition, my personal commitment to Uganda's environment grows stronger than ever. I am resolute in my determination to make a profound and lasting impact on the sustainability of our beautiful nation. Together with NEMA, and our other esteemed partners on 'Taasa Obutonde' such as Kampala Capital City Authority (KCCA), Vivo Energy Uganda, the AirQo Project, Uganda Breweries Limited (UBL), and Stanbic Bank Uganda, we shall continue to harness the power of media to positively Transform Ugandans' mindsets on their role in plastic pollution.
Join me on this extraordinary journey, as we ignite a green revolution that will shape the future of Uganda. Together, we can protect and preserve our environment, leaving a legacy that future generations will be proud of.