Today, we gather to unveil a visionary leap, a platform that embodies our commitment to reshaping the future. Welcome to the era of #NextWowzi – a dynamic, visionary platform built to shape and advance the influencer economy, underpinned by the transformative principles of Creation, Connection, and Influence.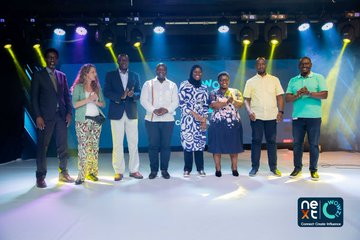 It is an honor to introduce this revolutionary force set to redefine how we perceive, engage with, and capitalize on the digital landscape. Our premier social media influencer platform has been meticulously designed to transcend conventional paradigms, fostering an ecosystem where content creators, businesses, and the youth of Uganda synergize for unprecedented growth.
#NextWowzi is a canvas where creativity finds voice, and innovation is met with opportunity. It is a stage where influencers are empowered to showcase their skills and transform them into sustainable income streams. By harnessing the power of social media, we connect these creative minds with brands, facilitating a union that leads to mutual enrichment. This synergy births more than campaigns; it fosters an environment where ideas converge, sparking a vibrant community of creators.
Yet, the story doesn't end with business and commerce. It's a narrative of empowerment, a chapter dedicated to the youth of Uganda. Through #NextWowzi, we extend a hand of hope to aspiring content creators, offering a bridge to dreams that were once considered distant. This platform opens doors to personal and professional growth, where creativity is valued, and skills are honed – a digital arena ripe with opportunities.
In tandem with celebrating the 15th anniversary of NBS TV, we infuse purpose into our actions. The canvas is not only for influencers and businesses; it's a tapestry that extends to the environment and education. Guided by our commitment to sustainability, we embark on an initiative to plant 15 million trees, a testimony to our pledge for a greener Uganda.
Our investment in the future continues with 15 scholarships for journalism students, nurturing the storytellers and media professionals of tomorrow.
But our grand vision doesn't stop here. Our commitment to the youth is further crystallized as we unveil an audacious goal – creating 1.5 million jobs for Ugandans.
A promise that resonates with hope, offering the gift of employment, skill enhancement, and economic growth. This is Next Media's mission unfolding, where each initiative, each step, and each innovation is designed to better the lives of our people.
In closing, the horizon ahead is illuminated with promise. #NextWowzi signifies a shift towards a future where empowerment, innovation, and growth reign supreme. The fusion of creativity and technology propels us forward in this realm of limitless possibilities. As Next Media, we stand at the forefront of this digital revolution and as architects of a new economy, guided by the principles of Creation, Connection, and Influence. The journey has begun, and the destination is nothing short of exceptional.