I addressed our dedicated Content team at Next Media Park. In this meeting, I emphasized the utmost importance of upholding our integrity and safeguarding our credibility. It is our fundamental duty to deliver unbiased news and information to our audience, free from any external influence or manipulation. We highly value the trust we have earned and remain committed to maintaining it.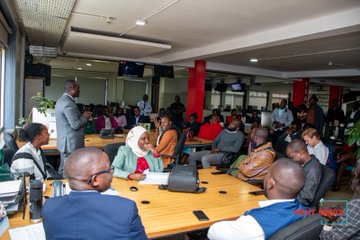 In our continuous efforts to ensure transparency and accountability, we have established a dedicated phone number, also available on WhatsApp, for reporting any instances of soliciting money from the public in exchange for coverage or other services offered by Next Media.
The number to reach us is (+256 (0) 703 078 201). We take these cases very seriously and are actively working to identify and hold accountable any individuals falsely claiming to work with us or on our behalf while attempting to solicit money from the unsuspecting public by promising our services. If you encounter such solicitations, we request you report them to the provided number above.
To our esteemed audience, the general public, I want to express my gratitude for your unwavering support as we continue to deliver reliable, independent, and trustworthy content. Your trust in us is paramount, and we are committed to meeting and exceeding your expectations. We urge you to remain vigilant and discerning consumers of information. Together, we will continue to build a media landscape that fosters credibility and integrity.